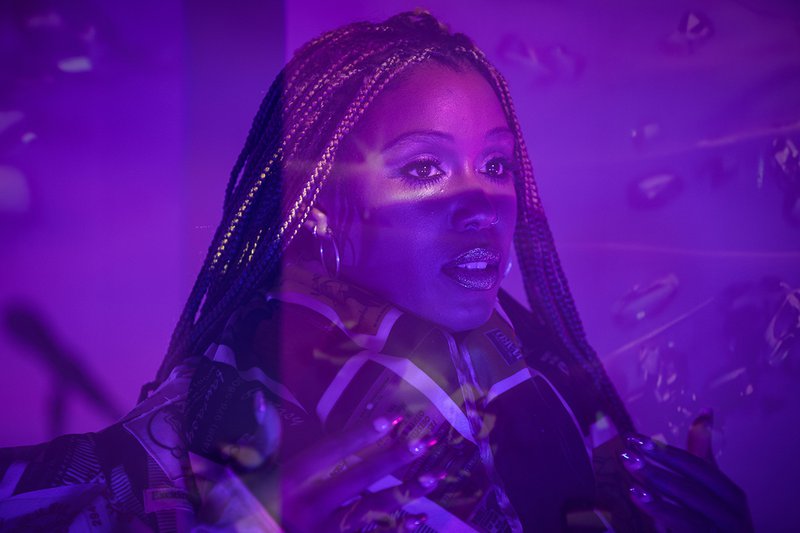 E. Jane
WHEN I THINK OF HOME, I THINK OF A BAG: A live performance by MHYSA
Saturday, April 10th, 5:00 PM EST
Canada, 60 Lispenard St. New York, NY 10013
Marking the closing day of Black Femme: Sovereign of WAP and the Virtual Realm, Canada is pleased to present a live performance by MHYSA, the underground popstar alter ego of interdisciplinary artist E. Jane, titled WHEN I THINK OF HOME, I THINK OF A BAG, 2021. The performance will take place on Saturday, April 10th, promptly at 5 pm EST. MHYSA will perform a cover of 'Home' from the 1978 musical, The Wiz, with visual inspiration from Yoko Ono's iconic Bag Piece, 1964. During this piece, MHYSA will perform in a hand-sewn fabric bag, a safe space encapsulated by a foreign environment. MHYSA will occupy the bag along with a webcam that will capture a live feed of the performance, giving the artist full autonomy over the consumption of their body and image.
No visitors will be permitted within the physical gallery space for the duration of the performance, lasting approximately 10 minutes. A Livestream will simultaneously be broadcasted via Twitch on an LCD Monitor displayed through the gallery window and streamed online via the Black Femme: Sovereign of WAP and the Virtual Realm online viewing room (https://canadaonlinevr.com/black-femme).
E. Jane (b.1990, Bethesda, MD) is an interdisciplinary artist and musician based in Brooklyn, New York. Inspired by Black liberation and womanist praxis, their work incorporates digital images, video, text, performance, sculpture, installation, and sound design. E. Jane's work explores safety and futurity as it relates to Black femmes, as well as how Black femmes navigate/negotiate space in popular culture and networked media.
Since 2015, Jane has been developing the performance persona MHYSA, an underground popstar for the cyber resistance. MHYSA operates in Jane's Lavendra/Recovery (2015-)--an iterative multimedia installation--and out in the world. Jane considers this project a total work of art--or Gesamtkunstwerk--that honors and examines the life of the Black diva and of Black femmes in popular culture. In 2018, MHYSA followed her critically acclaimed debut, fantasii, with a live EU/US tour. Highlight performances include the ICA and Cafe OTO in London and Rewire in The Hague. Her new album NEVAEH came out in February 2020 on Hyperdub records in London. E. Jane received their MFA from the University of Pennsylvania in 2016 and a BA in Art History with minors in English and Philosophy from Marymount Manhattan College in New York in 2012. They have performed at The Kitchen, MoCADA and MoMA PS1 as one half of sound duo SCRAAATCH alongside collaborator chukwumaa. They have exhibited their solo work in group shows in the US and internationally. Their installation Lavendra/Recovery has been shown as solo exhibitions entitled "Lavendra'' both at American Medium in Brooklyn, NY in 2017 and at Glasgow International 2018 in Scotland. In 2015 they wrote the widely-circulated NOPE manifesto, which was recently featured in Legacy Russell's Glitch Feminism (2020 Verso). They were a 2016 recipient of the Wynn Newhouse Award, a 2019-2020 artist-in-residence at the Studio Museum in Harlem and are currently a Harvard College Fellow in New Media as a part of SCRAAATCH.